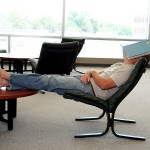 Ignoring poor performance can do serious harm, not only to your team, but to the player who is under performing.
In the family business setting, it can often feel like you have to tell your family member they are "no good" and risk causing bigger, deeper conflicts in the family community.  But trust me, not dealing with it is going to cause bigger issues down the road.
That's why I encourage all of my family business participants to build a "coaching culture" with their team so the team gets used to, and expects consistent, constructive performance feedback.
As one of my idols, John Wooden said, "Great coaches know how to give feedback without causing resentment."  True coaching leaders create a partnership based upon trust, mutual respect and an unwavering commitment to performance excellence.  Their team members expect the coach to challenge them to bring out their best!
I've developed a simple three question approach that helps coaching leaders quickly diagnose performance issues and have a path to discussing the issue with the team member.  You can get access to this practice and all of our deliberate practices by clicking here.
Don't ignore poor performance!  It can seriously undermine your team.  When your team members see company goals and mottos that are all about achieving greatness and see you turning your back on a poor performer, they will seriously question the integrity of the organization and you as the leader!