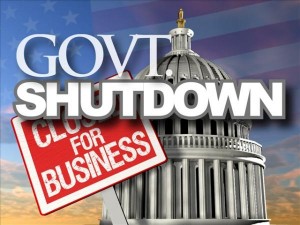 The last couple of weeks are a great example of what not to do in a family business.  Imagine the family business if we had extreme positions on the left and the right that couldn't be resolved and then somebody said "I guess we'll have to CLOSE the family business for two weeks" until we can get this resolved!
Imagine the pain that could cause all of the employees not to mention the vendors and suppliers and ultimately your customers you could lose if you shut down due to the inability to find common ground.
I've said it before and I'll say it again.  How do we expect our politicians to get along when we see the same kind of behavior in family businesses so often?
As family business coaches we work hard on helping people learn how to communicate more effectively, find common ground, and look for win-win solutions.  But, just like in our wonderful federal government, often times the agenda gets hijacked by people who are extremely rigid and sometimes vengeful when opportunity strikes.
Just like our federal government, many of these issues need our most open-minded and thoughtful approach.  The issues will not get resolved overnight and need a long term approach and a commitment to finding solutions not threatening shutdowns.
I've been approached by two families in the last 30 days that have pretty much caused their own shut down due to long protracted periods of bad behavior and gamesmanship.  I think at the end of the day they regret much of what they did, but good old-fashioned ego gets in the way of allowing them to apologize and get back to finding win-win.
Sure, the government reopened and are wonderful politicians are back to work.  It's not as easy in the family business.  Sometimes the filibusters lead to family conflict and damage that can either take generations to repair or, worse yet, never get repaired.
Learn to look for common ground.  Find win-win.  Bring in outsiders who can add perspective and calm the situation down.  Communication and consensus building can be the life blood of a healthy family business.  Taking a win lose mindset can be fatal to the family business.