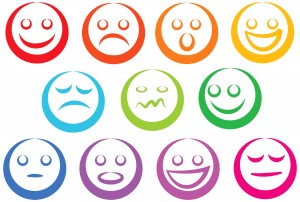 In case you haven't noticed, we are all wired with different behavioral styles!  Look around and you'll see it: fast and decisive, slow and methodical, spontaneous (and lacking accountability), and consistent and conservative.  See behavioral styles (and my acting ability) at work in a funny four minute video click here to watch the video.
The bottom line is people are wired a certain way and the sooner you accept that and work with it in a positive way, the better off you're going to be.  I can't tell you how many times I come across fathers and sons, or mothers and daughters who are pulling their hair out in frustration due to a reaction to the other person's style.
I've had two sons in the past 10 days who are ready to leave the family business because dad insists that the business be run in his predominant style.  I understand mom and dad's concern.  They know their approach has been successful so far in the family business and they are nervous that a different approach won't be successful.  Many times mom and dad's retirement is relying on the future success of the business.  There's good reason to be nervous!
People today thrive on being able to express and work with their unique gifts and personality.  If you're trying to smother that, stifle it, or flat out kill it off, you will run your children out of business and a potentially viable retirement plan (having your children buy you out of the business).
What you need to do is to identify the style differences so you can begin to speak to each other in each other's language and build your team around styles and strengths.  Don't try to make a methodical introvert your new sales leader and conversely don't try to make a gregarious salesperson your controller!
A successful family business learns how to identify inherent talents and as Jim Collins says in Good to Great put the "right people in the right seats on the bus."
The problem is too many times moms and dads get anxious and nervous with the next generation's style.  That's where governance comes in.  I just finished a project helping a family make a successful family business succession transition by helping the parents set up clear goals and accountability for the next generation leader and the business that must be met in order for the succession to be completed.  Click here to see a video with mom talking about the process.
So I'm not asking you to simply roll over and not worry about the style differences.  I'm suggesting that you embrace the differences, build your team and accountability measures keeping the behavioral styles in mind.
Most importantly, realize that we are all wired differently.  No style is better than another.  Stop making each other wrong for having unique styles and approaches, and start learning how to appreciate each other and set each other up for success!